In Quality First, we use the VISION model to guide the quality improvement journey, and every journey needs a roadmap. In this third stage, you'll focus on setting goals and creating action steps for quality improvement. This quality improvement plan is your roadmap. It outlines your goal (your destination), and the action steps you'll take to get there (your stops along the way). 
Before getting started
Before creating your quality improvement plan, you'll want to make sure you've taken the first steps to prepare. 
First, have you identified your vision for quality? To learn more, read our blog on the first stage,

vision casting

. Keep your program's vision in mind so that the goals you set get you closer to your vision.

Second, have you reviewed data on your program's everyday practices? To learn more, read our blog on the second stage,

investigating your current practices

. This helps you identify trends—strengths to build upon and challenges to work on. 
Your quality improvement plan
After considering your long-term vision and current practices, you're ready to create a plan. Your Quality Improvement Plan (QIP) is a tool you'll create to stay focused, organized and on track while working on your goal. The QIP form organizes your goal statement and action steps and keeps everyone on the same page. If you're a Quality First participant, access the QIP form on the Quality First Extranet, in the Quality First Resources section under Quality First Forms.
Your goal statement
Your quality improvement plan starts with a goal statement. An effective goal statement is precise and focuses on what you want to achieve.  What do you hope to see, hear, or create that would show that the goal was successful? 
Your action steps
Once you've identified your goal statement, it's time to create action steps. These are the actions you'll take to achieve your goal and the support you will need along the way. Each action step identifies who, what, and when. 
Who

will be responsible for completing the action step? This may include individuals, duos or teams.

What

actions will be taken? Consider your learning style and the preferences of your staff and colleagues. Don't be afraid to try something new; you can adjust action steps along the way.

When

will you complete the action step? Having a clear deadline in mind helps you prioritize your time.
Is your goal SMART?
Setting SMART goals helps you get the most out of your efforts. A clear goal keeps you on track and lets everyone involved know what is expected.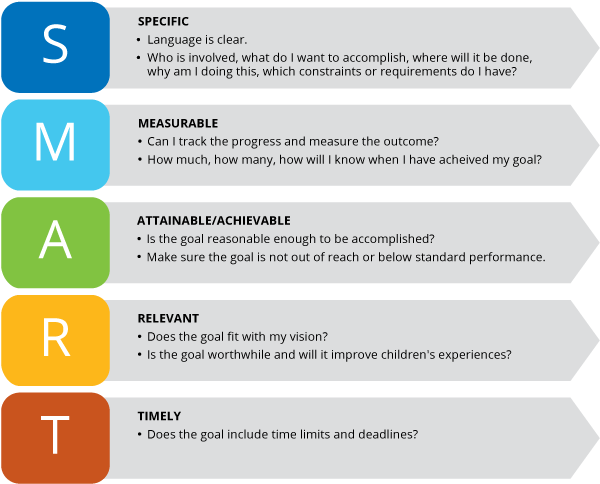 Involve others
As you set goals and create action steps, involve others. If your program employs staff, goal setting can be a team effort. Gather your staff for input on action steps that meet their needs and preferences. If you work with a coach or a team of technical assistance professionals, ask for their ideas. They may have suggestions for action steps and resources. 
Once you've written your quality improvement plan, post it in a prominent place in your program, classroom or office. Share your plans with your colleagues, staff and the families you serve. This helps with accountability as you work on your action steps, and includes others to celebrate with as you accomplish your goals.
At Quality First, we love to hear from you. Share your innovative practices so that others can be inspired. Email us at QualityFirst@FirstThingsFirst.org